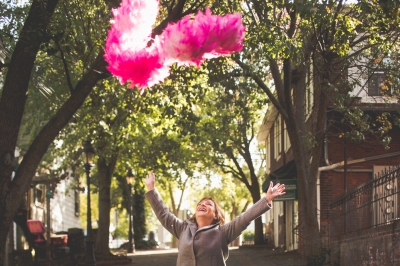 "Come on," you say. "Get serious," you say. Who wouldn't want to be 16? Who wouldn't want their whole life in front of them? Who wouldn't want the clear eyes, the innocent, unlined face? A face blissfully unsuspecting of all the life rushing towards it?
Today I awoke to 61 years old.
After a lifetime of chasing SuperGal-dom, of chasing control, and perfection, and pride, of trying to ward off the next bad thing that could happen, I'm on my way to overcoming the SuperGal Syndrome. I am evolving, from one degree of glory to the next.
Ten years ago, life jumped out of the bushes and blocked my path, forcing me to pause, if only for a while; forcing Me to ask Me, "What are you chasing, exactly?"
Ten years ago, God showed up and told me He had a plan. And that His plan was better than anything I could perfect on my own.
Ten years ago, I finally was forced to listen. Glad I did.
So, here I am. 61, not 16. I can't blame dyslexia, so it must be true.
Freckles have given way to wrinkles. The young, firm body parts have packed up and moved south (and east and west, but alas, not north, unless you count the occasional stray eyebrow), but I can still rock the four-inch heels. That's something, right? And my hair is still blonde. Who cares how much I spend t keep it that way?
Oh, how wisdom has freed me!
I can dance in the sun, albeit a bit more gingerly. I can accept what I am. I am at peace with Me.
After decades of working too hard and too long, I let my career fade to black, and let the curtain rise on pursuing passion instead. I wrote a book. A book!! Who knew? I speak to groups of women, and in their words, impact their lives in important ways. And now, I'm writing a play! With music. Get out!! And, as my friend, Cherri Romano, once told me as I contemplated leaving my career, "Every day is Saturday!"
I get to spend every day with my precious husband. This husband whose every breath was once deemed a bonus. A husband who, in the dark days, I never dreamed would still be here sharing all these years with me.
At 16, how could I ever imagine the humans of my own blood who would populate my existence? I love the adults my children have become. I'm not entirely certain I deserve their favor, but I have it nonetheless. And they've given us treasures more than gold: Five of their gifts are mine, six are Ben's, all are ours. I look at them with wonder. Tori, Lukas, Evan, Sloane, Kolton, Jeremy, Emily, Shane, Faith, Lily and Taylor. Now, how could I ever imagine life without them?
What would I tell my 16-year-old self if I could go back for a conversation? Nothing. I've suffered my regrets, but got tired of dragging them along behind me. So I let them be carried off when a new wind blew through. When my atmosphere changed. The 16-year-old I was wouldn't have listened, anyway. I forgive, and I've been forgiven.
My brother-in-law, Joe Alexander, recently told me that I've entered the "Go" years. Right now I am in the "Go-Go Years," to be followed by the "Slow-Go Years," and finally, will end with the "No-Go Years." That is as it should be.
Is 61 sweeter than 16? You bet it is!
Sixty-one perfects being imperfect.
Sixty-one's heart sees 20/20, even while its physical eyes see a tiny bit less.
Sixty-one gets it all together.
Well, actually, sixty-one just gets it.
Praise God.